Crimping 101
Using crimp beads to finish a necklace or bracelet:
1. String a crimp bead onto the beading cord or wire cable, then string the clasp.
2. Bend the cable back through the crimp bead.
3. Tighten the loop (but not too tight!). Use crimping pliers to crimp the bead into a small round crimp, or use flat-nose pliers to simply flatten the crimp.
4. Trim the excess cord/cable.
5. Use crimping pliers to close a crimp cover over the crimp bead.

For all crimping, apply pressure similar to a firm handshake, but don't squeeze so hard that you work-harden the crimp and make it brittle or break your tool.
Use a crimp cover to hide the crimp inside what looks like a 3-4mm round bead.
Small center-crimp tubes may require needle-nose pliers or fine-tipped flat-nose pliers.
---
Depending on your device, this section of our website decided to make those photos a lot smaller than we wanted them to be. So... here's the full infographic: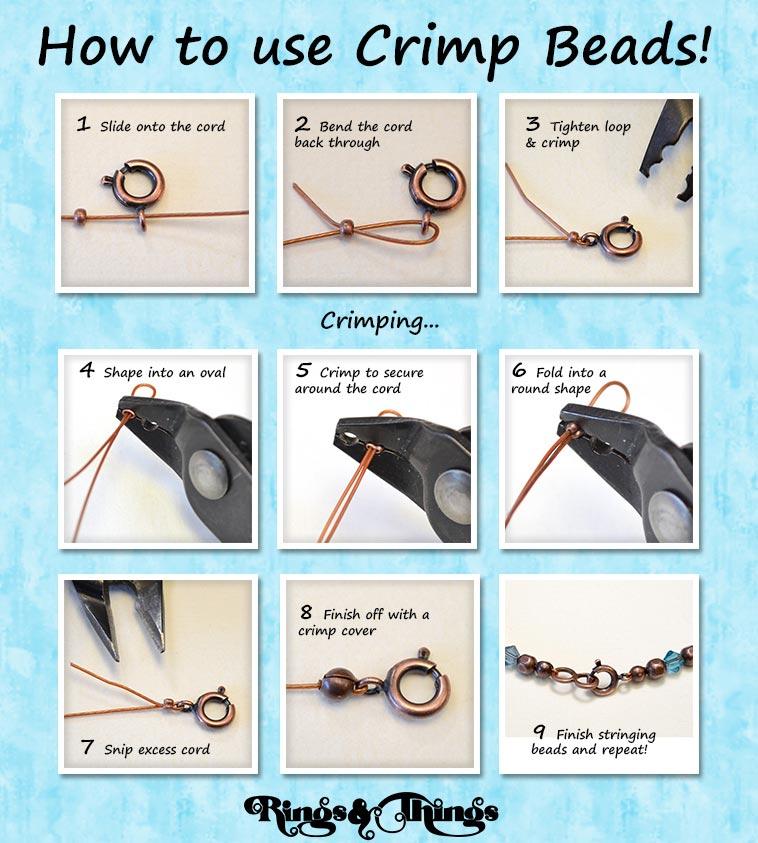 For additional tips and tutorials on using beading wire (stringing cable), crimp beads, crimp tubes, crimp covers, wire protectors & bullion (French Wire), see: Jewelry Basics (printable PDF).
Our Bead Blog
Created by: Guest Designer Deb FlorosSuggested Supplies2 #44-722-28-0 Brass Stamping Blank, Lo

Hello, fellow crafters and DIY jewelry enthusiasts! Today, we delve into an essential aspect of neck

This olivine variety is composed of magnesium iron silicate. Peridot (pronounced PEAR-ih-doh or PEAR