Edwardian Lime Skull Bracelet Tutorial
Created by: Toni Plastino

Designer Tips
String beads in desired pattern, and tie a square knot or surgeon's knot (see technique sheet). Pull tight, trim most of the excess, and (if possible) tuck the knot into one edge of a skull bead.
There are plenty of parts on each strand to make 2-3 bracelets.
Well... there were, but the lime green beads the designer used, are no longer in production, as neon colors go in and out of style in the fashion world. We've linked in a few other green bead options below.
Free Technique Sheets & How-Tos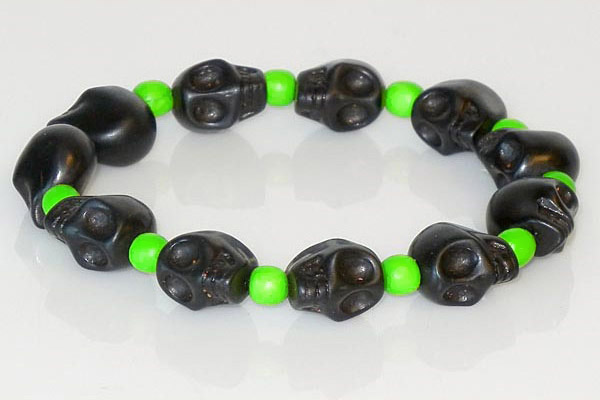 Suggested Supplies
Tools
#69-043 Tool, Scissors, Extra-Large Loop (or any cutters)
Our Bead Blog
Created by: Guest Designer Deb FlorosSuggested Supplies 1 #61-130-05-01 Greek Leather Cord, 1.5mm,

Created by: Guest Designer Deb FlorosSuggested Supplies 1 #20-111-223 TOHO Glass Seed Bead, Size 11

Created by: Guest Designer Deb FlorosSuggested Supplies 1 #21-000-043-79 Black Stone Beads, 8x12mm