Golden Sunshine Bracelet Tutorial
Created by: Janet Boyington
Designer Tips
Cut three 10" strands of gold Beadalon stringing wire. My bracelet measures about 6.5" when competed and ready to wear. Plan accordingly for larger wrist sizes.
String all three wires in a pleasing pattern, using alternating arrangements of Citrine, seed beads, Preciosa crystals and pearls. Utilize bead stoppers to keep beads in place as you design your patterns.
When each strand is to your liking, crimp each end (on one side) to the decorative gold filled square.
Crimp the other ends of your wire to the small jump ring of clasp, trim excess wire or "tails" from all six ends and cover with crimp covers (Be sure to run the beading wire back through at least one bead so you aren't cutting the wire right next to the crimp. This will help keep the wire from pulling out of the crimp).
Add the gold filled split ring to the end of the gold filled square, for clasp to attach to.
Final step -- add your dangles onto the gold filled square: Using the 3 gold filled headpins, create 3 different patterns, and wire wrap each one to the square for the final touch!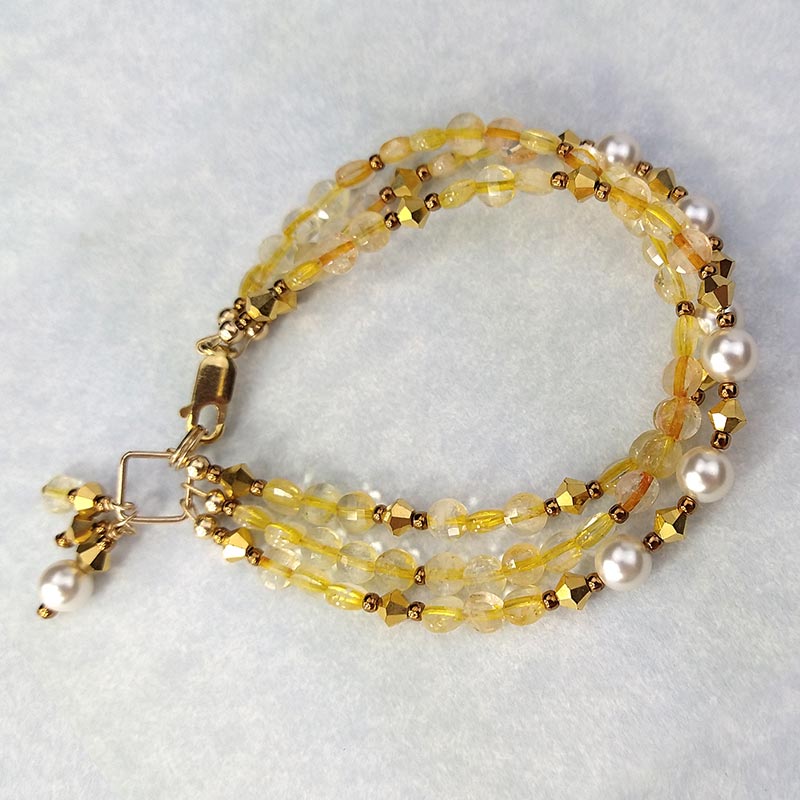 Suggested Supplies
Tools
Our Bead Blog
Created by: Guest Designer Deb FlorosSuggested Supplies 1 #61-130-05-01 Greek Leather Cord, 1.5mm,

Created by: Guest Designer Deb FlorosSuggested Supplies 1 #20-111-223 TOHO Glass Seed Bead, Size 11

Created by: Guest Designer Deb FlorosSuggested Supplies 1 #21-000-043-79 Black Stone Beads, 8x12mm