Hamsa Hand in Heart Mosaic Necklace Tutorial
Created by: Sondra Barrington
Designer Tips
Prearrange your design by tracing the bezel, and creating a mock-up arrangement on paper.
Nip the loop off of the hand pendant before setting in bezel.
Glue a small piece of flat metal (as a shim) to the back of the hand (on to the fingers) to create a level surface for gluing purposes.
Place items in bezel and set them in place with a dab of two-part epoxy glue. Let dry fully (24 hours) before applying concrete.
Mix the concrete from the EnCapture Artisan Concrete™ kit following the manufacturer's recommendations.
For more information on creating mosaic jewelry, check out the Rings & Things EnCapture Artisan Concrete Blog post.
Apply the concrete mix to the bezel to embed the mosaic's pieces.
Remove excess concrete from your embedded treasures as you work using a damp paper towel, cotton swab or toothpick.
If you do not like large grains of sand from the concrete being visible in your design, you may be able to bury them by gently poking them down into the wet concrete with a toothpick.
When you are done creating, rinse the syringe and allow it to air dry for future use.
Once concrete has cured, gently clean around embedded treasures with the straight carver.
Free Technique Sheets & How-Tos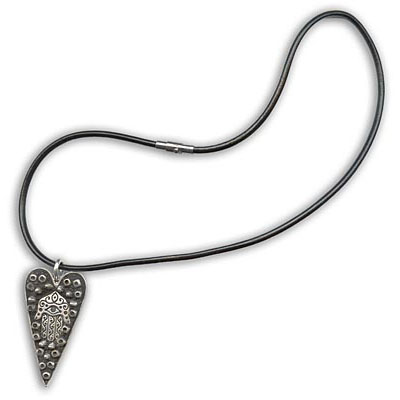 Suggested Supplies
Additional Supplies
Cotton swabs (for cleaning treasures after they are embedded)
Damp paper towels/moist towelettes (useful for cleaning up as you go)
Paper & pencil (for tracing bezel)

Our Bead Blog
Created by: Guest Designer Deb FlorosSuggested Supplies1 #AMIET-15 TOHO Amiet Beading Thread, A

Created by: Guest Designer Deb FlorosSuggested Supplies1 #56-216-36-3 Instant Pendant with Screw-On

Created by: Guest Designer Deb FlorosSuggested Supplies 1 #61-130-05-01 Greek Leather Cord, 1.5mm,