Isla Tortuga Bracelet Tutorial
Created by: Veronica Greenwood
Designer Tips
Choose the size of chaton to nestle into the center of your succulent charm. Using the GS Hypo Cement add a little glue in the center of your charm and place your chaton. Set aside to dry.
Cut approximately 9" of leather.
Slide one barrel bead and your button, onto the leather. Go back through your barrel bead, and using needle-nose pliers, crimp the barrel bead to create a secure loop at one end of the cord.
Slide your three pearls onto the leather.
Slide your second barrel bead onto the leather, and go back through the bead. Before crimping, make sure your loop fits over your button so you can clasp the bracelet, but not too loosely. Crimp the barrel bead.
Using a jump ring, attach your charm to the button loop.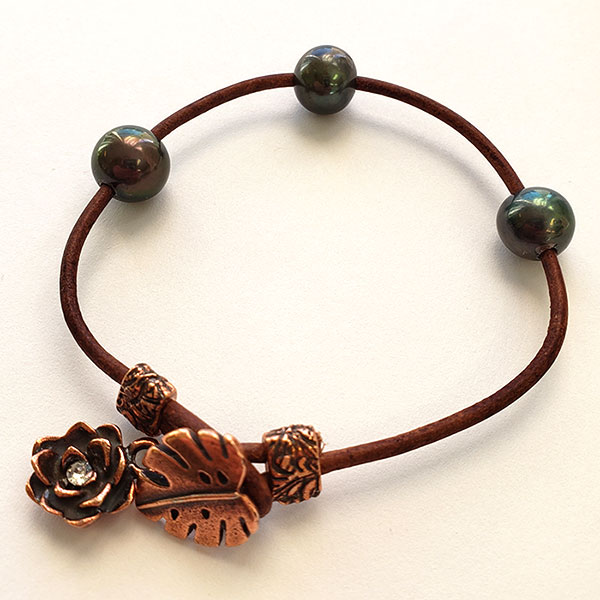 Suggested Supplies
3 each #20-600-01-10-443 Leather-Hole Freshwater Pearl Beads, 9-11mm Potato - Peacock
2 each #26-750-10-AC TierraCast Jardin Oval Barrel Beads - Antiqued Copper Plated
1 pack (use 1 crystal) #07-001-042 Stone, Chaton - Clear Crystal
1 100-pack (use 1 piece) #37-190-02-8 TierraCast Raw Copper Oval Jump Rings, 20-gauge
1 each #44-941-05-AC TierraCast Succulent Charm - Antiqued Copper Plated
1 each #59-100-49-AC TierraCast Monstera Leaf Button - Antiqued Copper Plated
1 pack (use approx. 9") #61-130-05-13 Greek Leather Cord, 1.5mm, 5 Meter - Tobacco
1 GS Hypo Cement
Tools
Needle-nose pliers (aka chain-nose pliers)
Scissors
Our Bead Blog
Created by: Guest Designer Deb FlorosSuggested Supplies 1 #61-130-05-01 Greek Leather Cord, 1.5mm,

Created by: Guest Designer Deb FlorosSuggested Supplies 1 #20-111-223 TOHO Glass Seed Bead, Size 11

Created by: Guest Designer Deb FlorosSuggested Supplies 1 #21-000-043-79 Black Stone Beads, 8x12mm