Just Peachy Leather Necklace Tutorial
Created by: Bridget Austin
Designer Tips
See the Jewelry Basics 101 PDF for hints and instructions on how to open and close jump rings.
The cord ends and barrel beads are all crimped, no glue required!
Start with 2 strands of leather cut to the desired length of your necklace.
String all 4 barrel beads onto the leather.
Attach cord ends to each end of the necklace and crimp tightly with the nylon jaw pliers.
Attach the hook and eye clasp with 2 jump rings to the cord ends.
Space the beads out evenly and crimp down on the leather to keep their place.
Place the rivoli stone in the setting and pinch it closed at the top to secure.
Attach the pinch bail to the stone setting and close tightly around the leather cord with the nylon pliers.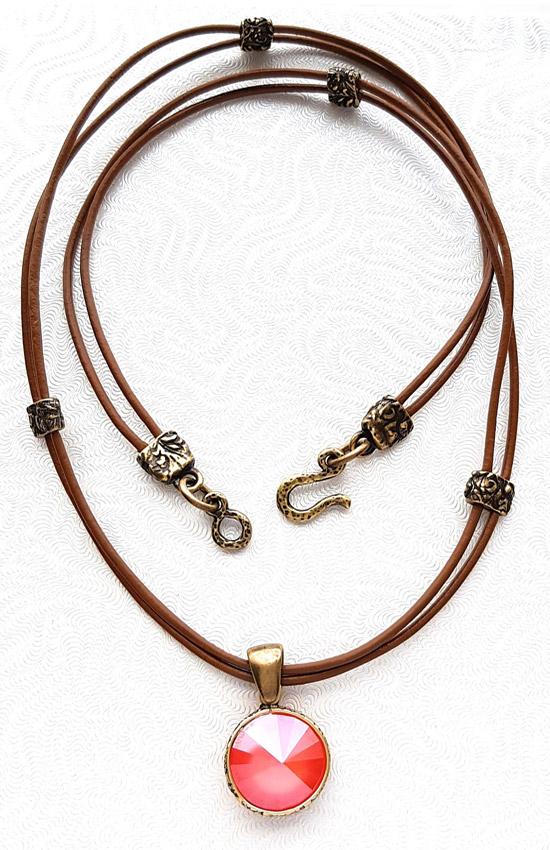 Suggested Supplies
Tools
#69-271-91 EURO TOOL Glitter, Nylon Jaw, Flat-Nose Jewelry Pliers
#69-275-03 Wubbers Chain-Nose Jewelry Making Pliers
#69-275-09 Wubbers Bent Chain-Nose Jewelry Making Pliers
Our Bead Blog
Hello, fellow crafters and DIY jewelry enthusiasts! Today, we delve into an essential aspect of neck

This olivine variety is composed of magnesium iron silicate. Peridot (pronounced PEAR-ih-doh or PEAR

Save time with pre-drilled blanks and create a pair of fun earrings with size 11/0 TOHO or Delica se