Leather and Stone Lashed Wrap Bracelet Tutorial
Created by: Cindy Morris

Designer Tips
This exclusive Rings & Things wrapped leather bracelet kit contains everything needed to make one triple-wrap bracelet with parts to spare. It can also be worn as a necklace.
Each kit contains detailed step-by-step instructions with photographs. Read the instructions thoroughly before starting.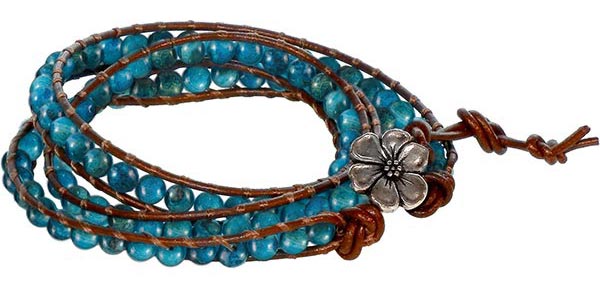 1 ea #45-204-010 Kit, Lashed Wrap Bracelet, Brown and Turquoise Blue
or, see below to purchase individual supplies separately.
Additional Supplies
Work surface (clipboard or a piece of cardboard with binder clips or clothespins)
Suggested Supplies
(if purchasing components separately):
Our Bead Blog
Created by: Guest Designer Deb FlorosSuggested Supplies 1 #21-000-043-79 Black Stone Beads, 8x12mm

Created by: Guest Designer Deb FlorosSuggested Supplies 1 #28-684-196 Handmade 12mm Ceramic Peace S

Created by: Guest Designer Deb FlorosSuggested Supplies 1 #AMIET-7 TOHO Amiet Beading Thread, Teal