Mauvey Marigolds Earrings Tutorial
Created by: Rings & Things Staff


Designer Tips
The backs of some resin flowers may be slightly concave. For better gluing results, run them over an emery board
(or Vintaj® Metal Reliefing Block) to level.
Allow items to dry on a non-stick gluing surface.

This pair of earrings was created using pre-made resin cabochons but you can also make your own. See below for links to a carefully selected offering of jewelry-quality resins.
Free Technique Sheets & How-Tos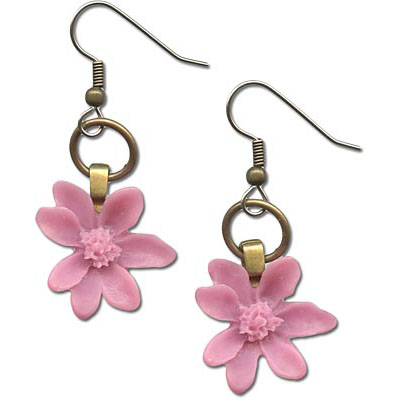 Suggested Supplies
Tools
#69-271-06 Tool, Glitter, Bent Chain-Nose Pliers
#69-271-03 Tool, Glitter, Chain-Nose Pliers
#69-327 Vintaj® Metal Reliefing Block
Additional Supplies
Our Bead Blog
Created by: Guest Designer Deb FlorosSuggested Supplies 1 #61-130-05-01 Greek Leather Cord, 1.5mm,

Created by: Guest Designer Deb FlorosSuggested Supplies 1 #20-111-223 TOHO Glass Seed Bead, Size 11

Created by: Guest Designer Deb FlorosSuggested Supplies 1 #21-000-043-79 Black Stone Beads, 8x12mm