Music Lover Necklace Tutorial
Created by: Valorie Nygaard-Pouzar


Designer Tips
Cut out the desired image.
Consider sealing both sides of the image to prevent possible discoloration of the image.
24mm Piddix collage hearts should fit snugly in the heart bezel, but glue image to bezel cup to prevent the image from floating.
Read and follow the manufacturer's instructions for preparing resin.
Slowly pour resin into the bezel. Remove any bubbles by waving a flame over the piece.
For additional tips & hints, see...

Pinterest Infographic: How to Make a Resin Pendant... ooops, we just noticed that this infographic that we pinned back in 2014(ish) still links to our old website (shop.rings-things.com) and it won't let us edit it to go to /Products/ ... grrr, we're working on it!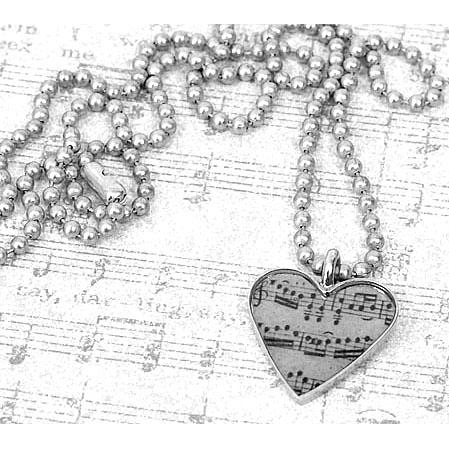 Suggested Supplies
Additional Supplies
Scrapbooking paper or favorite images (Piddix usually has 1" heart images that perfectly fit these bezels)
Mod Podge or Elmers Glue-All (to seal the image and glue it into the bezel frame)
Lighter (use flame to draw out the bubbles)
Scissors
Our Bead Blog
Created by: Guest Designer Deb FlorosSuggested Supplies1 #AMIET-15 TOHO Amiet Beading Thread, A

Created by: Guest Designer Deb FlorosSuggested Supplies1 #56-216-36-3 Instant Pendant with Screw-On

Created by: Guest Designer Deb FlorosSuggested Supplies 1 #61-130-05-01 Greek Leather Cord, 1.5mm,