Pawrific Enamel Necklace Tutorial
Created by: Summer Melaas

Designer Tips
Punch a hole in the top corners of your copper blank. File any sharp bits.
Clean your blank very well with warm water and Penny Brite.
Cut your 22 ga bare copper wire, and shape the wire pieces into a paw print. Make sure they are flat so that no enamel can run under the wire.

Set wire pieces off to the side.
Sift your 3 background colors of enamel separately (one color at a time) onto the blank in your desired pattern.

Carefully move your blank onto the torching basket and into the tripod.
Torch your blank from the underside. Cool....
Add your wire paw print pieces to the fired, cooled copper. The blank may have curved slightly during firing; reshape wire paw print pieces to fit flush if nececessary.
Make a liquid paint slurry with the Klyr Fire and black enamel.
With a small paintbrush, carefully dab the black enamel paint inside the wire paw print sections. Let dry.
Place your blank back into the torching basket.
Torch your blank again from the underside. Cool....
Carefully clean the back of your enameled blank with the Penny Brite.
Cut your finished chain in the center. Attach your blank to each side of the chain with a jump ring.
New to jewelry-making? See Basic Jewelry-Making Technique Sheet (PDF) for most secure way to open and close jump rings.
Visit our original blog article for illustrated Torch Fired Enamel Tips and techniques.
And Voila, you can show your love and adoration for all pawed creatures!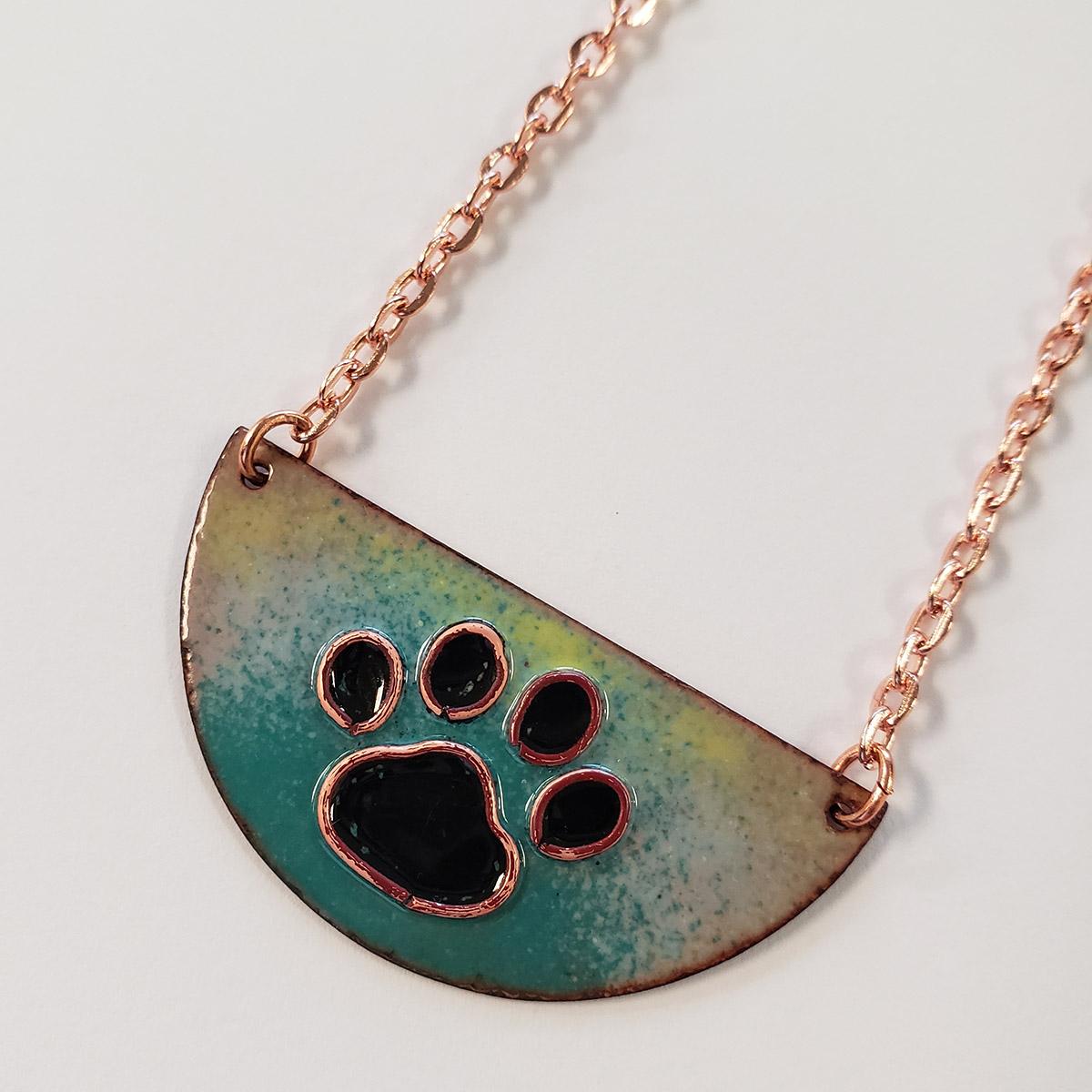 Suggested Supplies
Tools
Additional Supplies
plastic paint pallet or small cups for mixing enamel "paint"
Our Bead Blog
Created by: Guest Designer Deb FlorosSuggested Supplies 1 #21-000-043-79 Black Stone Beads, 8x12mm

Created by: Guest Designer Deb FlorosSuggested Supplies 1 #28-684-196 Handmade 12mm Ceramic Peace S

Created by: Guest Designer Deb FlorosSuggested Supplies 1 #AMIET-7 TOHO Amiet Beading Thread, Teal