Red Light / Green Light Enamel Earrings
Your Choice: They're balloons, streetlights or lollipops!
Created by: Summer Melaas and Polly Nobbs-LaRue
Designer Tips
Punch a 1/16" hole in each blank, directly opposite the existing loop or hole.
Clean the blanks with Penny Brite to remove all oils.
Spray each blank lightly with Klyr Fire before sifting enamel evenly onto each blank: red on one, green on another, and foundation white on the strips.
Carefully transfer a blank to torching basket (in tripod, over a heat-resistant work surface), and torch fire. Strips may need to be torched on the mesh (allow to cool between batches).
Begin heating from the back, and carefully move flame to the top, so you don't blow the enamel off.
Watch closely: when the enamel begins to melt, you'll see a glossy "orange peel" stage where the enamel beads up before slumping to a smooth fired sheen. Fire a bit more, but don't overheat - some colors will scorch.
Use fiber-grip tweezers to carefully grasp fired piece by edges (don't damage the fresh enamel). Set aside and allow to cool in a warm pan of vermiculite.
After cooling, scrub firescale off back with Penny Brite.
Use 5mm gunmetal jump rings to connect the enameled components. For instructions opening and closing jump rings and loops, see Jewelry Basics 101 (PDF)
Open the loop on an ear wire and add to the top of the enameled disk.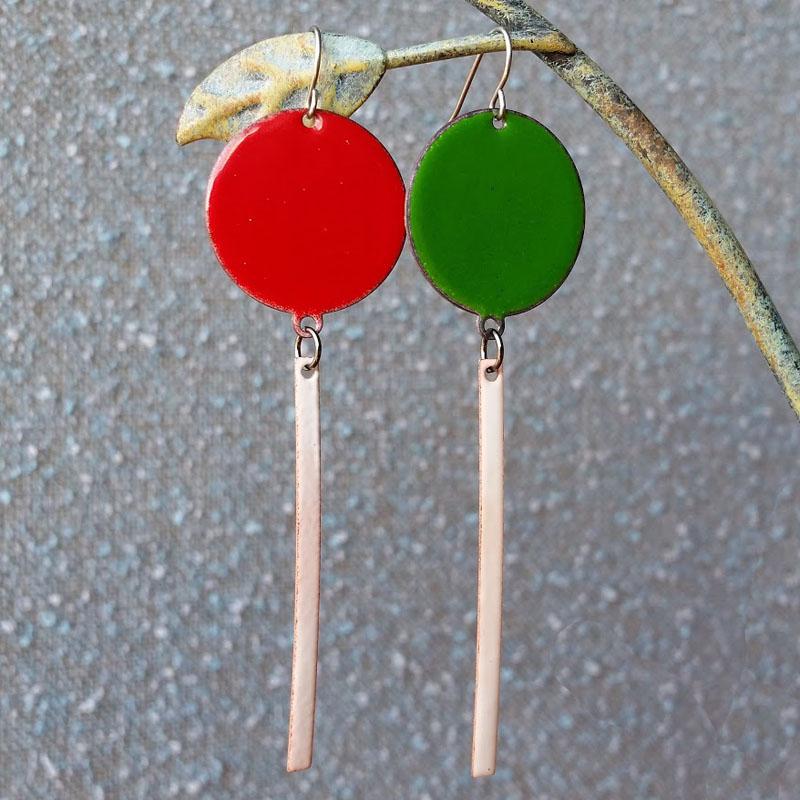 Suggested Supplies
2 each #44-780-21 Copper Stamping Blank, Round with Loop, 30x26mm
1 dozen [use 2] #44-722-50-0 Brass Stamping Blank, Long Bar with Hole
1 ounce [use 2] #37-100-9 5mm gunmetal jump rings
1 gross (72 pair) [use 1 pair] #34-840-01-0 Titanium Earring Hook Findings, Plain
1 each #81-500-1880-S Thompson Opaque 80-mesh Enamel for Metals - Flame Red, Sample
1 each #81-500-1360-S Thompson Opaque 80-mesh Enamel for Metals - Jungle Green, Sample
1 each #81-500-1030-02 Thompson Opaque 80-mesh Enamel for Metals - Foundation White, 2-oz.
#86-220-07 Penny Brite Copper Cleaner
#81-510-001 Klyr Fire, Holding Medium
Tools
#69-235 EURO TOOL Metal Punch, Two Hole
#69-650-S Small 80-Mesh Screen Sifter
#65-153 Torching Basket for Enameling by Eugenia Chan
#69-354-9 EURO TOOL Tripod with Mesh Screen, 9"
Fire-Resistant Work Surface: #69-182 Fire Blocks, 12"x12" Ceramic Tiles and/or Cement Tile-Backer Board
(Both of these torches give you a larger flame than the butane micro torches. You need the larger flame for torch enamelling anything except tiny pieces. It's also great for annealing!)
#69-428 EURO TOOL Fiber-Grip Cross-Locking Tweezer
#69-275-02 Wubbers Round-Nose Jewelry Making Pliers
Additional Supplies:
Small spray bottle (cosmetics/travel aisle or craft store) for Klyr Fire
Fuel Tank Holder: Large can 1/3 filled with rocks (coffee can size works well to secure fuel tank)
Vermiculite in warm bread pan or small crockpot
Our Bead Blog
Created by: Guest Designer Deb FlorosSuggested Supplies 1 #21-000-043-79 Black Stone Beads, 8x12mm

Created by: Guest Designer Deb FlorosSuggested Supplies 1 #28-684-196 Handmade 12mm Ceramic Peace S

Created by: Guest Designer Deb FlorosSuggested Supplies 1 #AMIET-7 TOHO Amiet Beading Thread, Teal