Tangerine Sunrise Earrings Tutorial
Created by: Summer Melaas
Designer Tips
Cut 3" of 26g sterling silver wire. Add 5 Indicolite (dark turquoise) 3mm crystals to the middle of the wire. Use chain nose pliers and bend wire to a 90° angle on each side of the crystals. Wrap one side of the wire 3x tightly to the center bottom right of the hoop. Wrap the other wire 3x to the center bottom left of the hoop. Cut excess wire on both sides and crimp the end with your chain nose pliers.
Cut about 4" of 26g sterling wire. Add 6 Light turquoise 4mm round crystals to the middle of the wire. Lay crystals above the previous row to gauge where to wrap your wire. Wrap the right side 3x then wrap the left side 3x. Cut excess wire on both sides and crimp the end with your chain nose pliers.
Repeat step 2 for the remaining rows with:

Row 3, 8 4mm Light Azore (pale blue)
Row 4, 9 Tangerine
Row 5, 15 3mm Padparadscha (pink-red)
Row 6, 16 3mm Rose Peach
Open loop on ear wire, and add hoop. For best way to open and securely close loops, see Jump Ring Hint in Jewelry Basics 101 (PDF).
Using the 7 colors of the rainbow would look fabulous in the application. For a true rainbow, bend the wire in more of an arc!
If using different sizes or shapes of beads, adjust the quantity per row as necessary to fit the space. Almost any petite crystal, glass or gemstone bead style will work!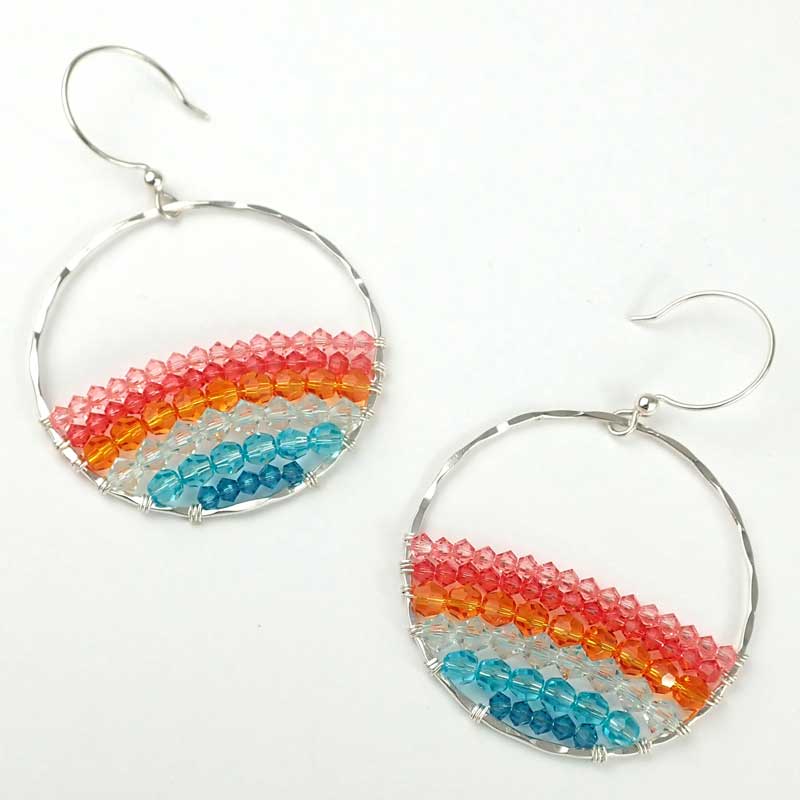 Suggested Supplies
Most Swarovski crystal beads are no longer available, but we still love this design, so we've attempted to make each of the links below, pull up multiple options (including Preciosa crystal and faceted gemstones) that are similar to the original color and size.
32 beads: #05-328-03-409 Swarovski Faceted Bicone Beads, 3mm - Rose Peach
30 beads: #05-328-03-133 Swarovski Faceted Bicone Beads, 3mm - Padparadscha
18 beads: #05-000-04-421 Swarovski Faceted Round Beads, 4mm - Tangerine
16 beads: #05-328-04-49 Swarovski Faceted Bicone Beads, 4mm - Light Azore
12 beads: #05-000-04-413 Swarovski Faceted Round Beads, 4mm - Light Turquoise
10 beads: #05-328-03-124 Swarovski Faceted Bicone Beads, 3mm - Indicolite
1 pair #34-569-03 TierraCast Sterling Silver French Hook, Hoop Style with Bead
2 each #44-050-73-85 Sterling Silver Jewelry Link, Hammered Round, 41mm
1 ozt (use about 8 feet) #64-592 Sterling Silver Wire, Round, 26ga, Dead-Soft
1 pair #33-960 French Wire Keepers, white
Tools
Our Bead Blog
Created by: Guest Designer Deb FlorosSuggested Supplies 1 #21-000-043-79 Black Stone Beads, 8x12mm

Created by: Guest Designer Deb FlorosSuggested Supplies 1 #28-684-196 Handmade 12mm Ceramic Peace S

Created by: Guest Designer Deb FlorosSuggested Supplies 1 #AMIET-7 TOHO Amiet Beading Thread, Teal