Tri-Tone Cuff Bracelet Tutorial
Created by: Rita Hutchinson
Designer Tips
Using a pre-cut and finished bracelet blank, and precut 6" patterned wire makes this bracelet assemble in a snap!
Apply pattern to copper blank with desired metal stamps.
Add patina to patterned wire and bracelet blank. Rinse and dry. Highlight with sanding sponges and polishing pad.
Add hole to each end of copper blank (at least 1/4" from the end). Use large side of double hole punch.
Use EZ-Bender to form cuff shape with bracelet blank and with brass wire. (The brass wire will not form to shape as easily as the blank.)
Add hole to one end of patterned wire (Hole should be closer to the end of the wire, than it was to the end of the blank).
Use eyelet setter to cold-connect the two pieces on one end with eyelet + washer.
Wrap rose-gold plated wire around center section of brass wire as desired, tucking ends between the layers.
Determine location of second eyelet, punch hole in brass and repeat connection process.
Note: The location of the holes will not match when the blanks are flat. The depth of the wire combined with the curve of the bracelet will alter the hole placement. (This is probably a formula that I learned in Algebra, but have forgotten.) I find that for this thickness of wire, plus the wrapped wire, the difference in hole location is about 2.5mm on each end.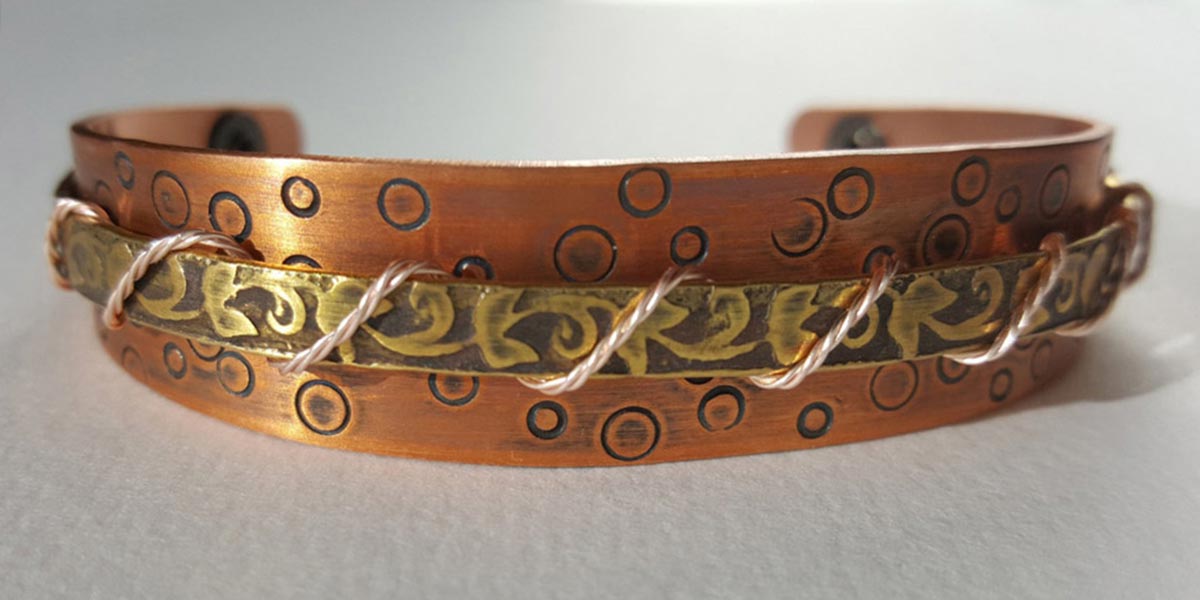 Suggested Supplies
Tools
Our Bead Blog
Created by: Summer MelaasDesigner Tips Attach ear wire to top loop of filigree. For best way to ope

What is the BEST Necklace Length? 18" necklaces are the most popular in the United States, but might

This olivine variety is composed of magnesium iron silicate. Peridot (pronounced PEAR-ih-doh or PEAR