Trio of Pearls - Leather Bracelet Tutorial
Created by: Sondra Barrington
Designer Tips
Add a pearl to one end of the cord, and tie a simple overhand knot on each side of the pearl. Use an awl to help pull the knots tight up against the pearl bead. This will be the "button" portion of your button/loop clasp.
Add 3 pearls to the bracelet -- but don't tie any knots around them yet.
Make a loop at the other end of the bracelet, just large enough to fit over the pearl "button". Secure the loop with a knot, but before tightening the knot, make sure the loop still fits snugly over the pearl "button" clasp.
Slide the middle pearl to the center of the bracelet and tie a knot at each side of it. Slide the other pearls next to these knots, and tie another knot at the outside of each pearl.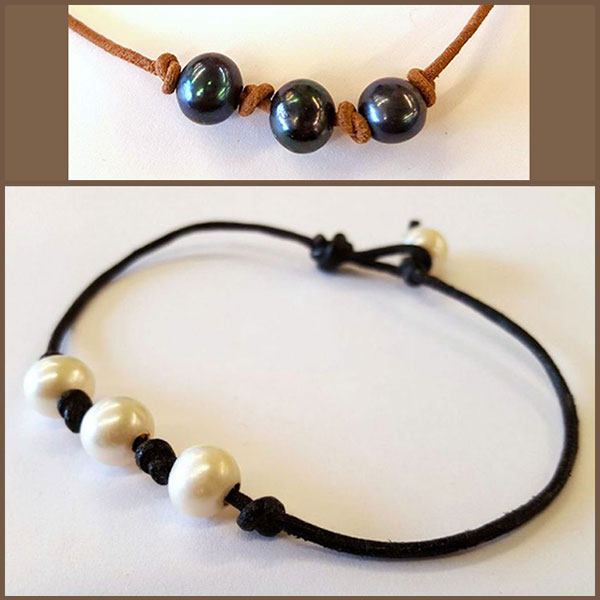 Suggested Supplies
Tools
beading mat - keep beads from rolling away as you work!
Awl (to help tie knots tightly up against pearl beads)
Our Bead Blog
Created by: Guest Designer Deb FlorosSuggested Supplies 1 #21-000-043-79 Black Stone Beads, 8x12mm

Created by: Guest Designer Deb FlorosSuggested Supplies 1 #28-684-196 Handmade 12mm Ceramic Peace S

Created by: Guest Designer Deb FlorosSuggested Supplies 1 #AMIET-7 TOHO Amiet Beading Thread, Teal