Tschinkel's Circles Bracelet Tutorial
Created by: Polly Nobbs-LaRue
Designer Tips
Lay out a pattern on the blank bracelet. Free-hand, or using a ruler, mark each spot using an awl or an extra-fine point marker.
(The heishi beads pictured are 18mm apart.)
Punch 1/16" holes in the leather, using the cutting end of the Crafted Findings riveting tool.
If necessary, use the cutting end of the riveting tool to punch 1/16" holes in the center of the vinyl disk beads. (They already have holes, but the holes might need to be larger.)
Use a short rivet (probably 3/32" long - but leather thickness and bead thicknesses vary, so the rivet length will vary too).
Stack components on the rivet in the following order: smallest bead, larger bead, leather bracelet.
Leather is more flexible than the metal that these rivets are designed for, so it's important to add a final bead (any color) on the backside of the bracelet, so the tiny finished/set rivet does not pull through the leather.
Each rivet should be approx. 1mm longer than the components before riveting.
Use the setting end of the Crafted Findings tool to set each rivet. See Riveting 101 or the video in the "more details" section of any of our Crafted Findings tools.
The #22-535 vulcanite heishi beads vary from 3 to 10mm. When I made this bracelet, we had #22-535-sm, with mixed 4-7mm yellow, red and black beads. In case those are no longer available, here is our full selection of vulcanite heishi beads. I suggest 2 colors of 4mm beads, and 1 strand of approx. 6mm beads.
The bracelet pictured is a 1" bracelet in Olive Green, but many other colors are available!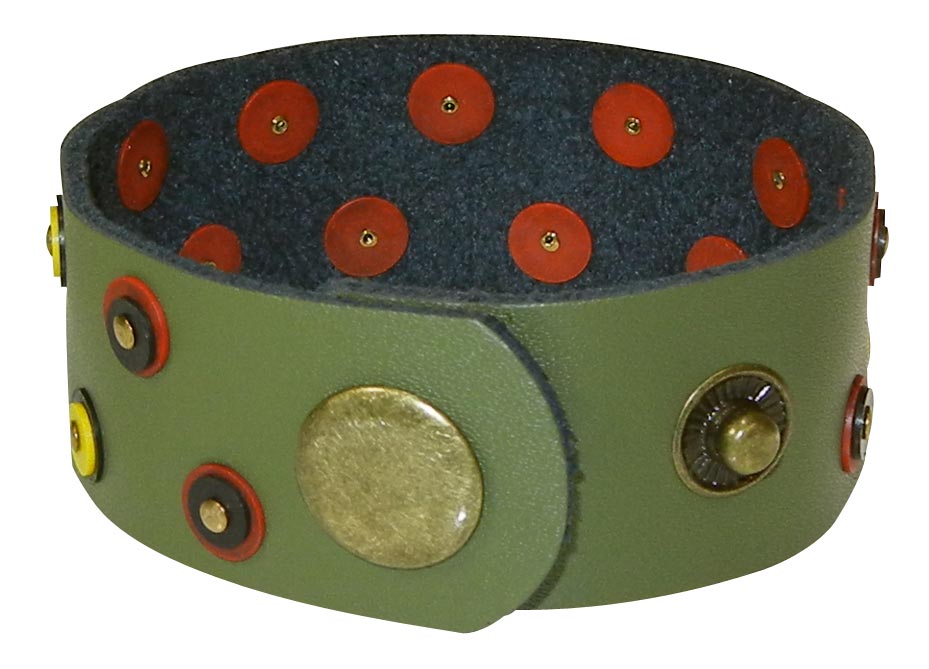 Suggested Supplies
Tools
Additional Supplies
Ruler
Fine Point Permanent Marker
Our Bead Blog
Created by: Guest Designer Deb FlorosSuggested Supplies 1 #21-000-043-79 Black Stone Beads, 8x12mm

Created by: Guest Designer Deb FlorosSuggested Supplies 1 #28-684-196 Handmade 12mm Ceramic Peace S

Created by: Guest Designer Deb FlorosSuggested Supplies 1 #AMIET-7 TOHO Amiet Beading Thread, Teal