April Love - Bracelet Tutorial
Created by: Sondra Barrington
How can I customize thee? Let me count the ways...
Designer Tips
Chain bracelets adorned with a simple heart charm continue to be popular. The sterling silver heart blank was intentionally left blank, but could easily be stamped or engraved to further customize.
You can also customize this design by using a different colored Swarovski rivoli stone (clear symbolizes Diamond, April's birthstone), or different styles of chain.
These bracelets are fun and easy to make, and make great gifts. You need just a few supplies, and basic jewelry making techniques.
To get started, place stone in bezel, and use flat-nose nylon-jaw pliers or a burnishing tool to gently bend prongs down over stone. Burnish smooth.
Determine desired bracelet length, and use 2 pairs of pliers to open last link: See Jump Ring Hint in Jewelry Basics 101 (PDF).
Use a jump ring to attach crystal charm to end of chain.
Open top loop of tassel, and attach to same chain link.
For extra security, use 2 jump rings to attach clasp to other end of chain.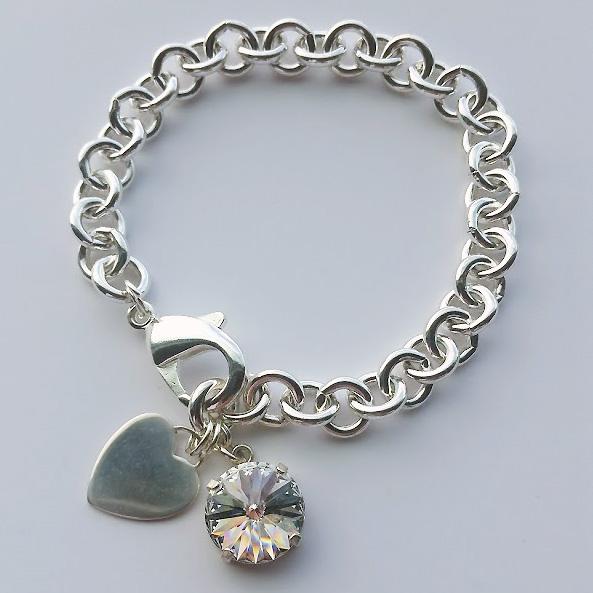 Suggested Supplies
14mm #1122 Rivolis by Swarovski are nearly gone, but these settings also work with most other brands of 12mm rivolis, including Preciosa and Matubo. Shop remaining colors while they last!
Tools
#69-271-91 EURO TOOL Glitter, Nylon Jaw, Flat-Nose Jewelry Pliers - or -
#69-101 EURO TOOL 2" Curved Steel Burnisher
2 pairs of your favorite chain-nose pliers

Our Bead Blog
Created by: Summer MelaasDesigner Tips Attach ear wire to top loop of filigree. For best way to ope

What is the BEST Necklace Length? 18" necklaces are the most popular in the United States, but might

This olivine variety is composed of magnesium iron silicate. Peridot (pronounced PEAR-ih-doh or PEAR