Bee Keeper Reliquary Necklace Tutorial
Created by: Mollie Valente
Designer Tips
For a step-by-step tutorial with images, check out the How to Create a Reliquary Pendant blog post.
Cut and shape the blank: Measure and cut a brass blank 1 x 1-3/4" in size. File the blank to soften the corners.
Mark and punch holes: Measure and mark the hanging holes: 3 holes, 1/8" from the top and spaced to match the holes of the triangle filigree and the wire-lashing holes; 2 holes, 1/8" from each side and 5/8" from the top. Punch holes in the marked positions with the two-hole punch.
Patina the blank and filigree: Clean the blank with a micro-fine polishing pad. Use a cotton swab to apply patina to the blank. Polish with the polishing pad to a desirable finish.
Add an image: Center the glass bezel on your patterned paper and use a pencil to mark the position. With craft scissors, cut out the paper just smaller than the bezel's exterior edge.
Adorn and encase: Glue the patterned paper to the brass blank. Glue on the bee charm (first remove the loop) and rhinestone, checking the position with the glass bezel. Glue on the glass bezel. Allow to dry.
Make cold connections: Lash the bezel in place with wire; this is both an adornment and reinforcement. Attach the triangle filigree to the pendant blank with jump rings.
Finish the necklace: Add a large jump ring to the triangle filigree top. String large ball chain through the jump ring, and finish with a clasp.
Free Technique Sheets & How-Tos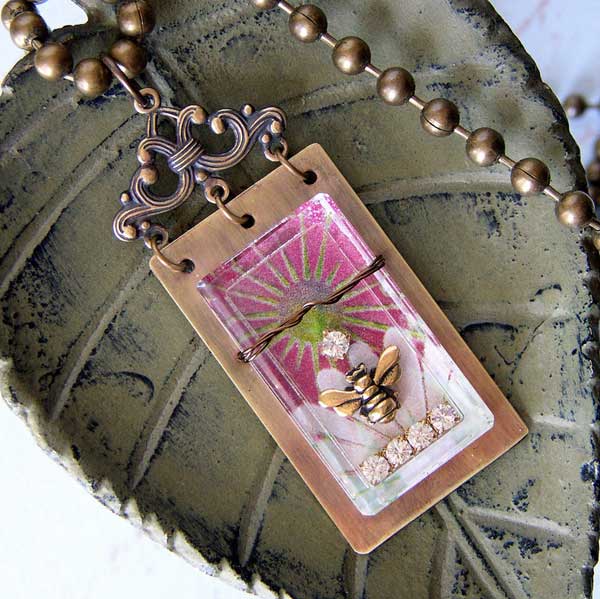 Suggested Supplies
Tools
Additional Supplies
1/4" wide craft paint brush
Cotton swabs
Patterned paper
Pencil
Ruler
Scissors

Extra fine point Sharpie
Our Bead Blog
Created by: Guest Designer Deb FlorosSuggested Supplies 1 #21-000-043-79 Black Stone Beads, 8x12mm

Created by: Guest Designer Deb FlorosSuggested Supplies 1 #28-684-196 Handmade 12mm Ceramic Peace S

Created by: Guest Designer Deb FlorosSuggested Supplies 1 #AMIET-7 TOHO Amiet Beading Thread, Teal