Delightfully Dotty Enameled Necklace Tutorial
Created by: Rita Hutchinson
Designer Tips
Cut copper sheet to size or use a premade copper blank. If you have cut your own blank, punch hole in appropriate location and file edges to remove roughness.
Create rings for pendant polka dots. Use solid copper wire and either a coiling tool to create coils of different sizes or the jaws of round nose pliers to create a tapered coil.
Cut individual rings from coils with flush cutter. Alternate sides when cutting the coil and trimming the end to maintain flat ends on each side of the rings. Close each ring as close to flush as possible.
Flatten copper blank and wire rings with nylon hammer and steel block.
Clean blank with penny brite prior to enameling.
Following all safety procedures, sift a layer of white enamel onto blank over glossy paper. This will allow you to save and reuse the overflow enamel.
Fire base enamel color and allow blank to cool.
Spritz enameled blank with klyr fire and place rings in desired locations. Allow all to dry.
Mix enamel colors with a small amount of klyr fire and water in separate wells of palette. Mixture should be a bit muddy in consistency: if too liquid, the color will bleed out of desired areas.
Paint enamel colors into the center of the dots with fine paintbrush. Paint remaining surface of blank with background color.
Fire blank and allow to cool.
Cut chain into 3 even sections.
Wire-wrap crystal beads and faceted cubes directly to either end of one chain section. Add links with other crystal colors. Attach additional chain segments to final beaded segment. Crimp pliers are handy for tucking in ends of wrapped wire. Attach jump rings and clasp to end of chain.
Use two oval jump rings to attach pendant over center section of chain.
(If desired, use novacan black to patina the crystal links, they will patina naturally over time).
Need help with the basics?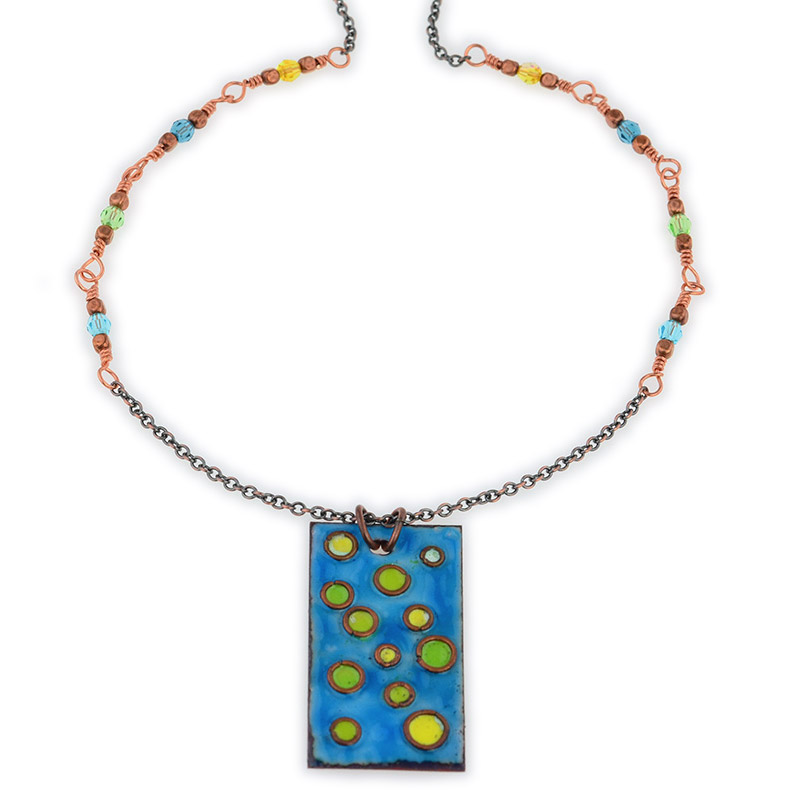 Suggested Supplies
Tools
Other Supplies
Plastic or Glass mixing/paint palette
Glossy Magazine pages
Our Bead Blog
Created by: Summer MelaasDesigner Tips Attach ear wire to top loop of filigree. For best way to ope

What is the BEST Necklace Length? 18" necklaces are the most popular in the United States, but might

This olivine variety is composed of magnesium iron silicate. Peridot (pronounced PEAR-ih-doh or PEAR