Dragonfire Men's Wrapped Bracelet Tutorial
The classic wrapped leather bracelet is a great men's bracelet style already, and becomes even more masculine when you use leather bolo cord for the base.

We ran out of 12mm Dragon Blood Jasper beads as soon as this bracelet went on display, so a few striking and exciting alternates are linked below:


Created by: Janet Boyington
Designer Tips
Cut approximately 24" of leather. The average man's wrist is 8.5". Putting knots in the leather cord shortens the leather rather quickly, so if you're making this for Father's Day and dad's wrist is bigger than average, you might want to start with a few more inches of leather.
Fold leather bolo cord in half, and make a small knot near the fold, keeping a small loop (about 10mm or 1/3 of an inch) sticking out. Use a sturdy jump ring to attach the button to this loop.
Take the silk thread completely off the cardboard and don't cut the cord until you're done. (This way, when you're done, you'll have a little silk left over, still attached to the needle, saved for another project).
Begin lashing your beads to the bolo cord just below the loop & knot, starting with step 4 of our blog article: How to Make Wrapped Leather Bracelets.
Optional: Add a dab of GS Hypo Cement to the silk cord knot.
Start with one 8mm metal bead, then use approximately 15 gemstone beads in desired pattern, and finish with a final 8mm metal bead.
Finish your thread like the blog article describes, and then tie an overhand knot with the leather.
Next, leave a gap large enough for the button to go through, and tie another overhand knot. Before pulling this knot tight, make sure you can get your button into and out of the hole, so you can clasp and unclasp the bracelet.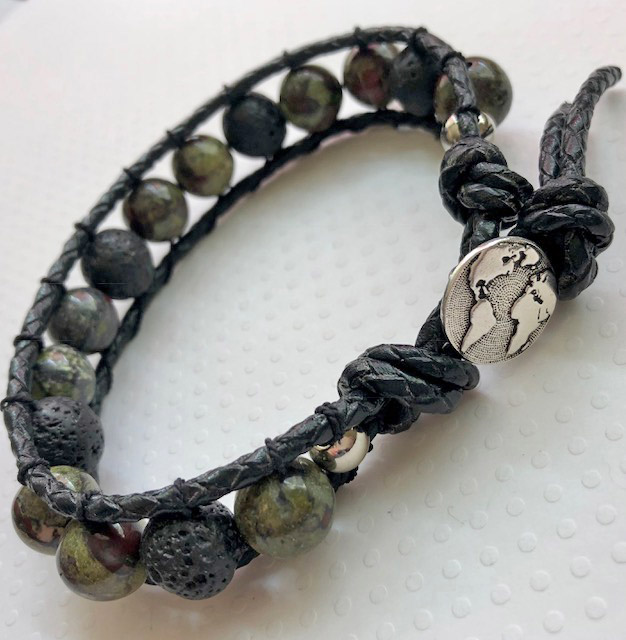 Suggested Supplies
Our Bead Blog
Created by: Guest Designer Deb FlorosSuggested Supplies 1 #61-130-05-01 Greek Leather Cord, 1.5mm,

Created by: Guest Designer Deb FlorosSuggested Supplies 1 #20-111-223 TOHO Glass Seed Bead, Size 11

Created by: Guest Designer Deb FlorosSuggested Supplies 1 #21-000-043-79 Black Stone Beads, 8x12mm