Metal Stamping 101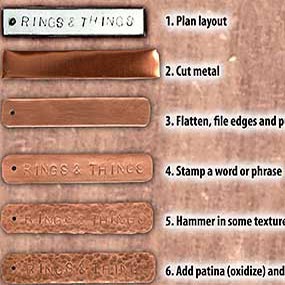 Make your own custom charms, pendants, connectors, tags and more! Metal stamping is not only the latest craze — it's also a lot of fun and gives you design freedom. Plus, handcrafted metal components give your designs a personal touch, both in look and meaning. They can also add to the value of your finished jewelry.
Outfitting Your Toolbox:
It's true that metal stamping requires a bit of hardware. But, once you've acquired the necessary tools, they'll work hard for years! Here are the basics you'll want to get started.
| | |
| --- | --- |
| | R&T Metal-Stamping KitSave almost 15% off individual-tool prices! If you're just getting started, our custom-made kit is your best bet. It contains metal stamps, two-hole punch, metal shears, 2 hammers, metal file set, steel block and brass brush. |
| | Metal Stamps Our metal stamps are made from durable high carbon steel to endure thousands of stampings! Alphabet, number and punctuation sets come in wooden and plastic organizers. Decorative stamps are sold individually. Alphabet stamps come in capital letters, lowercase and lowercase script. |
| | Metal Hole Punches Our favorite two-hole metal punch is made of tempered tool steel and uses screw action to make perfect holes every time without deforming your metal sheet. Other metal punches also available! |
| | Metal Shears These Lindstrom shears with ergonomic cushion grips are an R&T staff pick! They cut up to 20-gauge sheet metal with ease. |
| | Hammers Not just for stress-relief, our hammer selection includes chasing, ballpein, Swiss style, nylon-head and texturing hammers, for a variety of design uses. Texturing hammers make it easy to create background patterns. |
| | Anvil Blocks Get the right surface for work-hardening metal and performing fine detail work. |
| | Brass Brush This brush's angled wooden handle and soft 0.5" brass bristles make it perfect for cleaning metal without marring surfaces. |
Gathering Your Materials:
Now that you've got the necessary tools, gathering other supplies is a breeze. The only stamping material needed is 24-gauge to 20-gauge metal sheet. Once you've made your stampings, you'll want something to hang them from. Choosing beads to make complementary dangles is an added optional pleasure!
| | |
| --- | --- |
| | 24-Gauge to 20-Gauge Metal Sheet 24-gauge to 20-gauge sheet is perfect for metal stamping, and is available in brass, copper and sterling silver—a variety that's sure to please! |
| | Pre-Cut Metal Blanks If you're just starting out, or simply don't want to cut your own metal sheet, these pre-cut blanks are the perfect solution! Available in copper, brass, nickel silver, pewter, aluminum, sterling silver and Alkeme, they come in a wide variety of shapes. |
| | Footage Ball-Chain For an easy and popular look, try hanging your custom-stamped dangles from ball chain, available in a variety of sizes and finishes. We also offer ball-chain clasps, ends & connectors. |
| | Beads You don't need beads to create metal-stamped components, but a few simple beaded dangles will look great next to your custom stampings. |
| | Findings If you want to include beaded dangles in your design, you'll want a few basic findings, such as jump rings, head & eye pins and more. |
Basic Stamping Instructions:
Find the basic steps for metal stamping below. For more detailed instructions, print our free PDF of metal-stamping techniques.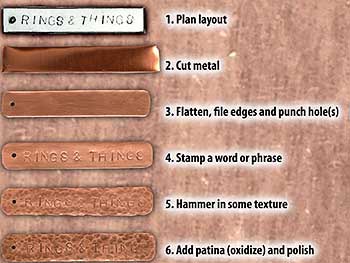 For more detailed instructions, print our free PDF of metal-stamping techniques.
Looking for other methods of personalization? How about letter beads, letter charms, chakra charms and gemstone beads, or birthstone components? Find ideas and tutorials in our Gallery of Birthstone & Personalized Jewelry.
Our Bead Blog
Created by: Guest Designer Deb FlorosSuggested Supplies 1 #21-000-043-79 Black Stone Beads, 8x12mm

Created by: Guest Designer Deb FlorosSuggested Supplies 1 #28-684-196 Handmade 12mm Ceramic Peace S

Created by: Guest Designer Deb FlorosSuggested Supplies 1 #AMIET-7 TOHO Amiet Beading Thread, Teal