Puppy Love Pin Tutorial
Created by: Mollie Valente
Designer Tips
The Complete Metalsmith (#62-011) provides a useful chart for selecting saw blades. Or scroll down to the comments section of our "Tips for Sawing Sheet Metal with a Jewelers Saw" blog article.
Use rubber cement to adhere a paper Scottie dog pattern to the brass. Saw the design out. File the metal to shape.
Repeat process with patterned brass heart.
Use a soldering iron to add soft solder to the backside of the rhinestone chain and heart. Turn over, and place pieces on scottie dog blank.
Solder the heart and rhinestone chain to the Scottie dog blank from below with a micro torch.
Clean the metal, patina, and polish. Clean back with rubbing alcohol.
Cut adhesive dot to fit the bar pin. Adhere to Scottie dog backside.
Free Technique Sheets & How-Tos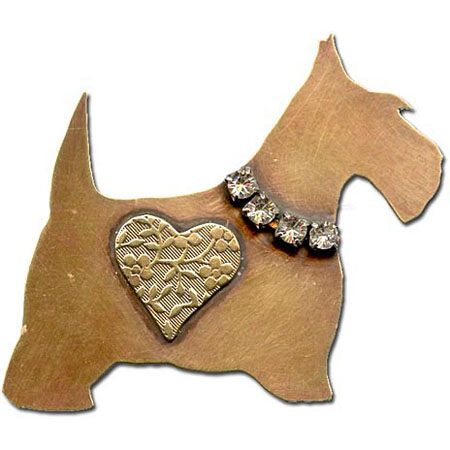 Suggested Supplies
Tools
Additional Supplies
Cotton swabs
Paper towels
Rubber cement (from craft or hardware store)
Rubbing alcohol

10mm round double-stick adhesive dot
Our Bead Blog
Created by: Guest Designer Deb FlorosSuggested Supplies 1 #21-000-043-79 Black Stone Beads, 8x12mm

Created by: Guest Designer Deb FlorosSuggested Supplies 1 #28-684-196 Handmade 12mm Ceramic Peace S

Created by: Guest Designer Deb FlorosSuggested Supplies 1 #AMIET-7 TOHO Amiet Beading Thread, Teal