Venus Necklace Tutorial
Created by: Mollie Valente
Designer Tips
Using a decorative metal stamp on a solid copper tube-top bails is an easy way to sign your work, or simply give a secret little accent to the back of a piece. Stamp the bail prior to gluing.
To match the color of the mesh choker, and make the stamped design "pop", darken the bail using Win-Ox™.
Glue the cabochon or other focal piece to the bail.
Slide the choker onto the pendant.
Free Technique Sheets & How-Tos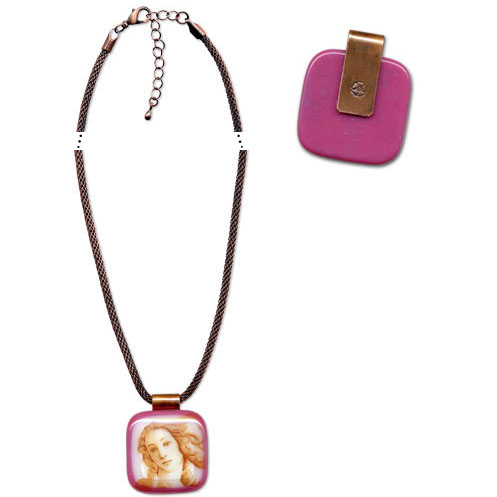 Suggested Supplies
Tools
#69-248-01 Tool, Hammer, Ball Pein, Stubby
#69-123 EURO TOOL Combo Bench Block
#69-245-09 Tool, Stamp, Pansy - or your favorite design stamp.
Additional Supplies
Art glass cabochon, or other unique focal piece
Our Bead Blog
Created by: Guest Designer Deb FlorosSuggested Supplies 1 #61-130-05-01 Greek Leather Cord, 1.5mm,

Created by: Guest Designer Deb FlorosSuggested Supplies 1 #20-111-223 TOHO Glass Seed Bead, Size 11

Created by: Guest Designer Deb FlorosSuggested Supplies 1 #21-000-043-79 Black Stone Beads, 8x12mm